About Citizens
For more than 80 years, Citizens Community Credit Union has been serving our members and their families. Like all credit unions, we are a not-for-profit, member-owned, financial cooperative, and use our cooperative model to provide our members/owners with better rates on loans and deposits, as well as lower fees and charges. All credit union earnings are reinvested back into our credit union and used to better serve our member/owners. Click here to learn more.
Your Money Is Safe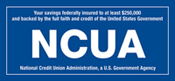 The National Credit Union Administration (NCUA) is the federal agency that charters and supervises federal credit unions. The NCUA, like the FDIC, is backed with the full faith and credit of the U.S. Government.
Federally insured credit unions offer a safe place for you to save your money, with deposits insured up to at least $250,000 per individual depositor. The National Credit Union Administration (NCUA) is the independent agency that administers the NCUSIF. Like the FDIC's Deposit Insurance Fund, the NCUSIF is a federal insurance fund backed by the full faith and credit of the United States government.
Our Mission
Our mission is to support Iowans on their financial journey.
Our Vision
Our vision is to be our members' forever credit union.
Our Values
Motivation
Passion
Accountability
Community
Trust
Our History
In the beginning, it was the management of Tobin Packing Company in Fort Dodge, Iowa, that fostered the idea of starting a credit union for the benefit of the company's employees. Secondly, the management of George A. Hormel and Company in Fort Dodge, the successor to Tobin, supported our credit union greatly. It is also true that only through the combined efforts of the many volunteers who have, and are now, serving on your board of directors and the faithful staff that we have been able to achieve the measured success we enjoy today. And last, but certainly most importantly, our members whose loyalty and support over the years has contributed significantly to our growth and success.
In early February 1940, Mr. Herb Vetter, managing director of the Iowa Credit Union League in Des Moines learned that Mr. Harold Gilman was plant manager of the Tobin Packing Company. Knowing Mr. Gilman had been a credit union member in Sioux City, Mr. Vetter called on him with the idea of generating interest in forming a credit union at the Tobin plant. After two or three meetings, it was decided to call a meeting of all plant employees to discuss the formation of a credit union.
On March 7, 1940, a meeting was called for 4:00 PM in the cafeteria of the Tobin plant. Fourteen people attended that meeting. After listening to Mr. Vetter point out the benefits of belonging to a credit union, eleven people proceeded to sign the Articles of Incorporation – forming the Tobin Employees' Credit Union.
Our credit union opened for business on April 24, 1940, in the small room just outside the employee entrance with $300.00 in assets. The first loan was granted a few days later–the amount being $75.00 (a momentous occasion). From this meager beginning, our credit union has steadily moved forward to the $225+ million, 16,000 member credit union that it is today.
On February 4, 1954, the credit union name was changed from the Tobin Employees' Credit Union to Hormel Employees' Credit Union to reflect the new ownership of the meat packing plant. During October 1963, our credit union reached $1 million in asset size.
As the credit union continued to grow, it became too large for the small office in the basement of the Hormel plant, so the board of directors decided to activate a building committee to review several plans for a new credit union building. After substantial consideration, a lot at the corner of Central and 3rd Street was purchased. The contract for a new building at 13 South 3rd Street, Fort Dodge, was let on August 8, 1971. The building was completed on March 1, 1972.
Between 1971 and 1980, the field of membership of our credit union was expanded to include family members and small employee groups in the area. On April 19, 1972, the Gus Glazer Employees' Credit Union merged with our credit union.
With the announcement that Hormel plant would be closing in 1981, our directors and management conducted a feasibility study for a possible community based charter. The study concluded that there were a large number of residents within our community that were not eligible for credit union services. A new charter was applied for and our credit union became Citizens Community Credit Union on November 1, 1981. The charter stated that our credit union would serve all persons living or working in the community of Fort Dodge, Iowa.
Membership, savings and loans all increased very rapidly as word spread about the benefits of our credit union membership. Soon it was so apparent that our facility at 13 South 3rd Street was too small. (We had already added on an addition to the building in 1980.) During 1982 and 1983, a great deal of time was devoted by the board of directors and manager investigating various building/relocation options. It was decided to purchase the former "Bob Kidd Oldsmobile" property at 2012 1st Avenue South and renovate the building into a modern financial facility. The project was completed and we began operations in our present facility on June 1, 1984. A large addition and a complete remodel of the original building were completed in 2005. Since 1984 we have merged with the following credit unions: Georgia Pacific; Franklin County, Hampton; United Community, Algona; Eaton Employees', Belmond; Local 66 (National Gypsum Employees), Fort Dodge; Town & Country Credit Union, Storm Lake; Fonda Community Credit Union, Fonda; Crouse Employees' Credit Union, Fort Dodge; and Iowa Northland Credit Union, Estherville. In addition, we were invited to serve the employees of the Fleetguard Company in Lake Mills, Iowa.
Today, we operate eight separate offices: our Main Office and the Hy-Vee branch in Fort Dodge, Algona, Belmond, Estherville, Lake Mills, Spirit Lake, and Storm Lake, Iowa. Our current field of membership now includes all persons living or working in one of 33 north central and northwest Iowa counties. In addition, our field of membership includes 499 Iowa Cooperatives and their members and the Iowa Independent Automotive Dealers Association and their members.