Member Referral Program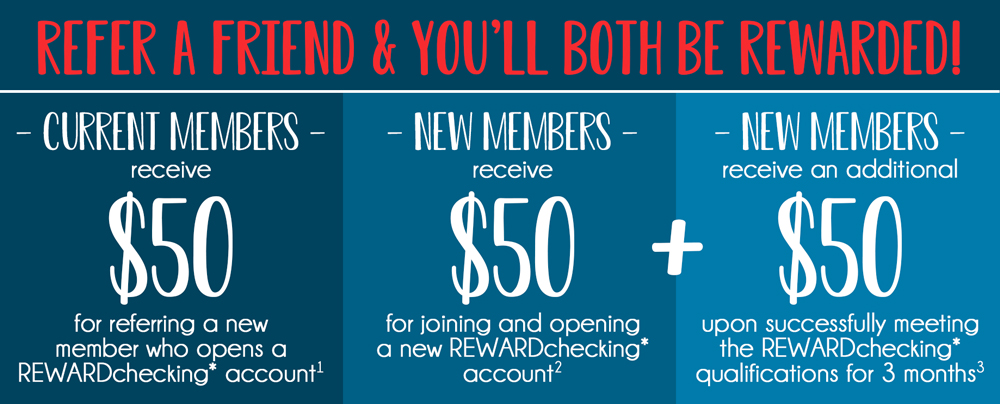 For more information or to become a new member, call us at (515) 955-5524 or visit any of our locations!
(1) $50 bonus is paid to current member's REWARDchecking account after new referred member opens a REWARDchecking account.
(2) $50 bonus is paid to new member's REWARDchecking account after opening a REWARDchecking account along with presentation of referral form or mention of referral from current member or advertisement. An initial deposit of $25 is required to open share account and maintain membership. Must be 18 years or older, with no closed account within the last six months, and live or work within field of membership to qualify.
(3) $50 bonus is paid to new member's REWARDchecking account after meeting the REWARDchecking qualifications for the first three consecutive monthly statement cycles. To qualify, the following criteria must be met during each monthly statement cycle: 10 debit or credit transactions posted, one direct deposit or automatic payment posted, and enrollment in eStatements.
*REWARDchecking rate tiers are as follows: 2.01% Annual Percentage Yield (APY) applies to balances of $.01 – $25,000, and 0.75% APY applies to balances over $25,000, as long as qualifications are met each month. 0.05% APY applies to all balances if qualifications are not met. APY accurate as of 10/1/19 and is subject to change without notice. Fees may reduce earnings. Bonus will be reported for tax purposes; consult your tax advisor. Limited time offer. Federally insured by NCUA.